This product is underwritten by Fidelidade Macau - Insurance Company Limited
As per Administrative Regulation No. 40/2003, It is hereby established the compulsoriness of the professional liability insurance for lawyers, which guarantees the indemnities that may be legally required to be paid for patrimonial loss or damage caused to third parties, resulting exclusively from acts omissions or non-fulfillment of obligations on the part of the lawyers in the course of their professional activity.
The insurance equally covers the legal liability in respect of third parties for which the lawyer may be held responsible for acts or omissions on the part of his non-lawyer staff and of the trainee lawyers, so too for accidents caused to third parties within the office premises of the lawyer.
---
The above product information is for reference only.
Please contact us for further details about the product and how to apply for it.
The annual premium is calculated based on the selected limit of liability and excess for each and every claim, according to following table: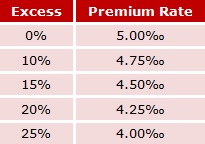 Lawyer Premium = Limit of Liability X Premium Rate X (1 – NCB% + Surcharge%)
Trainee-Lawyer Premium = 25% x Lawyer Premium
Non-Lawyer Staff Premium = 10% x Lawyer Premium
The minimum Limit of Liability established by Law is MOP 2,000,000
For policies with no claims in a policy year, a No Claim Bonus (NCB) will be offered in the subsequent year. This NCB can be accumulated by year.

For policies with one or more valid claims in a policy year, no NCB will be offered in the subsequent year and an additional premium for adverse loss experience shall be charged: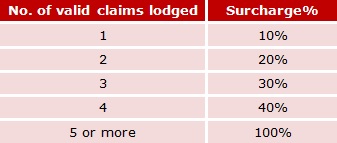 The proposal for insurance shall contain the following particulars:
Identification of the lawyer and respective lawyer's office address
Identification of trainee lawyers and non-lawyer staff, and their employment date
Period of insurance
Retroactive date
Limit of liability
Excess (amount which, in case of claim, shall be the responsibility of the lawyer)