Spending time in hospital can be expensive, not just because of the high costs of medical treatment: How would you make up for the money you lose while lying in hospital, unable to earn? Where will be the money you need to support your family when you're not at home? Will you be able to make money when recovering from hospital? Even a short, unexpected stay in hospital will disrupt your regular income and you will find yourself struggling to meet these financial responsibilities.
The Hospital CashPlus is designed to help you cope with the high cost of a hospital confinement by paying you a cash amount every day when you are hospitalized due to sickness or accident. This money can be used towards the sudden expenses incurred during your confinement or for any other financial purposes.
PLAN FEATURES
Payment of daily cash benefit up to $1,200 for a maximum of 366 days
Double cash benefit up to $2,400 for a maximum of 90 days
24-hour worldwide coverage
Discount for annual premium payment
Discount for extension of coverage to your spouse or children
Easy application with no medical examination required
DISCOUNT FOR FAMILY ENROLMENT
By joining with your spouse and/or child(ren), you will enjoy a 10% discount on premium. Any number of unmarried dependent children aged from 6 months to 17 years will be covered with one fixed premium. Additional children are automatically covered by this plan when they reach the age of 6 months, at no extra cost.
FLEXIBLE CHOICES OF 3 BENEFIT PLANS
Hospital CashPlus offers you a choice of 3 different benefit plans. You can choose the most suitable benefit level according to your budget and protection needs.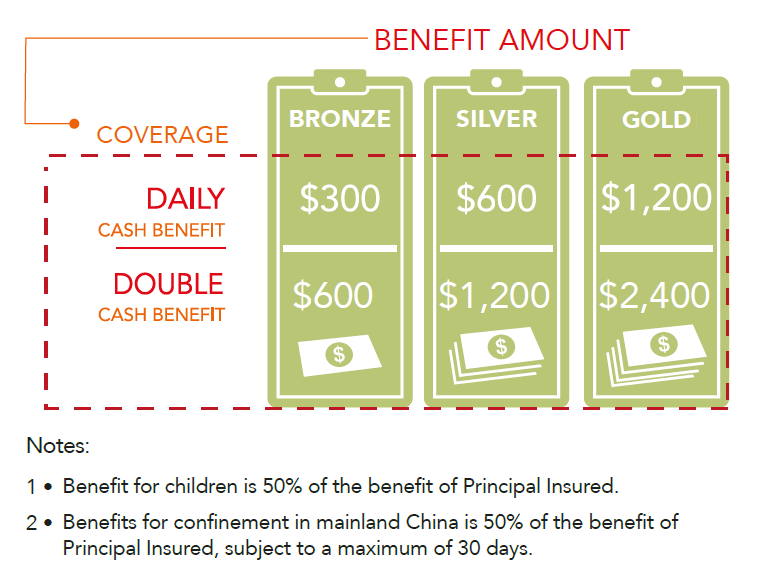 NO CLAIM DISCOUNT
If no claim has been made in the period of insurance, you are entitled to a no claim discount on renewal premium.
---
This product is underwritten by Fidelidade Macau - Insurance Company Limited. The above product information is for reference only.
Download the Product Leaflet here.
Please contact us for further details about the product and how to apply for it.
DAILY HOSPITAL CASH BENEFIT
You will receive the daily cash benefit for confinement due to sickness or accident up to a maximum of 366 days. This benefit is payable on top of any other insurance plan you may have and there is no limitation on how you spent the benefit.
DOUBLE CASH BENEFIT
The daily cash benefit will be doubled up if you are being confined for any of the following situations:
Intensive Care Unit
Major organ transplant
Specified infectious diseases
Confined in hospital outside Macau, Hong Kong or China due to an accident
Confined in hospital at the same time for both Principal Insured and Insured Spouse
WORRY-FREE PROTECTION AGAINST INFECTIOUS DISEASES
In view of the widespread of Avian Influenza, SARS, Dengue Fever, Mad Cow Disease and others, most people are concerned over the possibility of contracting an infectious disease. Hospital CashPlus provides you with protection against 16 of those diseases, allowing you to meet various financial needs.
24-HOUR WORLDWIDE COVERAGE
Hospital CashPlus offers you a total protection wherever you are, giving you total peace of mind 24 hours a day, 7 days a week.

No benefits shall be paid for confinement caused by or resulting from any of the following:
Pre-existing medical and congenital conditions.
Dental and optical treatment.
Sickness occurs within 30 days from policy effective date
Pregnancy and fertility or infertility treatment.
Cosmetic surgery, prosthetic appliances and routine medical examinations.
Drug addiction, alcoholism, sexually transmitted diseases, and HIV.
War and insurrection, dangerous sports and activities.
Hospitalization primarily for diagnostic scanning, X-ray examinations or physical therapy
Any of the following occurring within 6 months from the commencement of insurance: 1) Tuberculosis, 2) Anal fistulae, 3) Gall stones, 4) Calculi of kidney, urethra or bladder, 5) Hypertension or cardiovascular disease, 6) Gastric or duodenal ulcer, 7) Diabetes mellitus and 8) Tumours or malignancies.
Any of the following occurring within 1 year from the commencement of insurance1) Tumor of internal organs, 2) Hemorrhoids 3) Diseased tonsils requiring surgery, 4) Pathological abnormalities of nasal septum or turbinates, 5) Hyperthyroidism, 6) Cataracts, 7) Sinus conditions requiring surgery and 8) Hallux Valgus
 
Premium is based on your age at entry. The earlier you enroll in Hospital CashPlus, the lower the premium you can enjoy. If you opt to pay the premium annually, you can enjoy a 10% discount on premium. No medical examination is required and you can save your time!